FOOD BANK. Thank you for all the donations. this week the foodbank are requesting , squash,  custard and long life milk.  Any donations would of course be gratefully received.

Mission News.  We are having a mission Sunday on 2nd February

Housegroups  will be starting again in January, please see the link for details. The evening Housegroup will resume on 21st January. Please see the Link for details, or contact Julie Wing.


Morning Prayer group has a change of time. We are now meeting before church on a Sunday, 9.30am in the small schoolroom . See the Link for details

Thank you to everyone who supported Mission in 2019 over £3000 was raised by Haddenham Baptist Church.

Please support the New Year breakfast 9am Sunday 5th January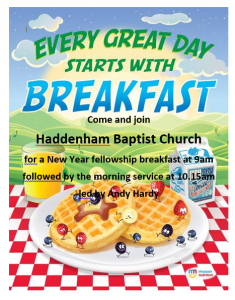 Next Messy Church is Friday January 31st at 3.45pm
Mary has now given birth to Jesus Christ, so the 'Posada' has been put away until next year, put away but not forgotten.