FOOD BANK. Thank you for all the donations. this week the foodbank are requesting fruit juice, tinned potatoes and long life full fat milk.  Any donations would of course be gratefully received.
Mission News.  We are planning an Indian evening soon. Details to follow.
Housegroups  have now started their new Lent Series .  Please see the Link for details, or contact Julie Wing
Morning Prayer group has a change of time. We are now meeting before church on a Sunday, 9.30am in the small schoolroom . See the Link for details
The next Mission event is an Easter Coffee morning in the schoolroom, Saturday 20th April 10 – 12noon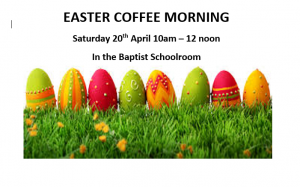 A taste of Britain is coming up in early May, book your ticket now.