FOOD BANK. This week the foodbank are asking for squash and fruit juice. Any donations would of course be gratefully received.
Mission News.  Church visit to India.  February 17th – 25th 2019.
Housegroups have started again 2.30 at 3, Yolsum Close . Please see the Link for details, or contact Julie Wing
Morning Prayer group at 9.45am every Monday, in the prayer room . See the Link for details
This Thursday 6th December there is a film afternoon at Jan's  Mamma Mia here we go again. Please see the link for details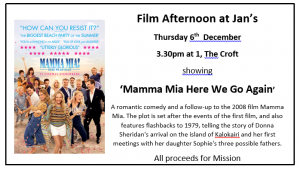 This Saturday 8th December is the annual Christmas coffee morning at 3, Roberts Road. All are welcome.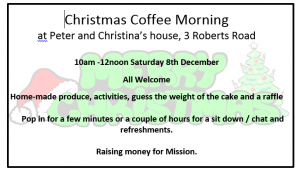 This year as previous years the FOODBANK are providing Christmas boxes to those who may not otherwise have very much.  There  are specific items to put in that box as listed on the flier, if you feel able to contribute. As always though, any donations are gratefully received. Thank you for your continued support.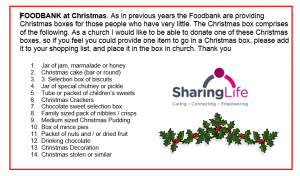 There are also many church services to attend, The Crib service, Carols by Candlelight, Midnight communion to welcome the Christchild, Christmas Day service.
In addition there is the Christian Aid Soup Lunch, The Christmas Tree Festival at St Mary's  and the Village Carol service in the Village Hall. Look out for details in the Link.