FOOD BANK. Thank you for all the generous donations left in our porch and donations of money they are getting to the foodbank on a regular basis. The foodbank is a lifeline to people at the moment, please remember them in your prayers. .

Please remember all our BMS workers here and abroad working to spread the word of God in very challenging circumstances. Let us in particular remember our link missionaries Tom and Mel Spears.


Please remember all our friends who are currently unwell, recently bereaved or just struggling in these strange times.    


Church services.Sunday 19th March, Mothering Sunday at 10.15am. Jonny will lead the morning service

Sunday 26th March at 10.15am. We join our Methodist friends at their church for a joint morning service.

Sunday 26th March at 6pm Jonny will lead the evening service
An evening of Blue Grass music
Our next fundraising event for our 'Hat and Boots' Appeal is an evening of Blue Grass music led by Bluejay. This will take place in church, Haddenham  Baptist Church, on Friday 31st March  7.30pm Please get your tickets from church, blooming fruity or on line.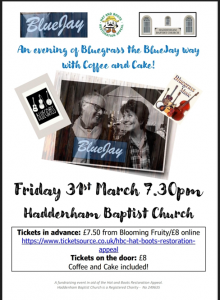 www.ticketsource.co.uk/hbc-hat-boots-restoration-appeal
Lighthouse Haddenham