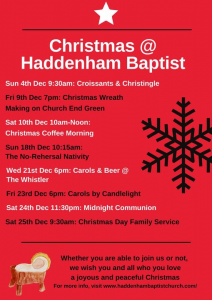 We have a busy Advent and Christmas coming up, starting with our POSADA at the beginning of Advent. Mary, Joseph and the donkey visit various houses reminding us of the hospitality enjoyed by Mary and Joseph on their journey to Bethlehem.
Croissants and Christingle is our all age service on 4th December, come and learn all about what Christingle means, and how it helps us think about other sin the world.
Christmas wreaths are traditional festive decorations for our dooors, come and make one at our wreath making evening on the 9th December
Friday 9th December also means the CTiH Village Carol Service in the viliage hall, starting at 7pm. A service of carols and reflections, ending with a performance from the mummers.
Saturday 10th December we join together for coffee and cake, and maybe our first mince pie, to help raise funds for Mission, meeting in the schoolroom.
Sunday 11th December we are joining with our Methodist friends at the Baptist church to share a time of Advent together, and also to share Holy Communion as we welcome 2 new members to the church.
Sunday 18th  is our 'no rehearsal nativity' where everyone young, and not so young, are encouraged to come to church dressed as a Christmas Character to re tell the Christmas story, a memorable time in so many ways.
Saturday 24th we share Holy Communion with everyone as we welcome in the Christchild, followed by a family service on Christmas morning. Please could everyone bring a  Christmas present with them as we show and tell.