Haddenham Baptist Church is facing one of its greatest challenges of recent years. Following a quinquennial inspection, it has been found that there had been serious ingress of water in the building. This appears to be due to  a drainage system which needs upgrading, a roof which over the years has deteriorated and because of the nature of the building material, Witchert,  water has been retained and has seriously damaged the walls.
All of this,  with the help of specialist firms, can be rectified, but at a significant cost.
The estimate for all this work is £500,000, some of which we hope might be covered by grants but we will be fund raising to help us reach this very ambitious target.
We will post regular updates of building progress and fund raising activities, and any other relevant information.
Hat and Boots Restoration Appeal has now rasied £14,000 thanks to the genorisity of many people and profit from specific events.
Haddenham Baptist Church launched its Hat and Boots Restoration Appeal to raise funds for vital repairs to this unique witchert building. One week on, the Appeal has raised an incredible £14,000   Baptist Minister Jonny Fillis said "I want to say a big THANK YOU to everyone who supported Ross and myself during our 90 mile Wychert Way walk, our Open Day and all our fundraising activities. It was a really great way to start what will be a long road, so thank you all."
Appeal Co-ordinator Francesca Flaxton said "The response from the local community has been amazing so far. The Open Day and Wychert Way walk raised almost £4,500 and the rest has come from generous donations, other local events plus Gift Aid. It's clear there is a lot of support in the village to preserve Haddenham's witchert heritage".
The Latin evening was much enjoyed and very successful, over £600 was riasied for our 'Hat and Boots' appeal.
Saturday 6th May saw a terrific coronation party in St Marys School.
Thank you to everyone who supported this event.
Our next 'Hat and Boots' fund raising event is a concert performed by the Oxford Welsh Male Voice Choir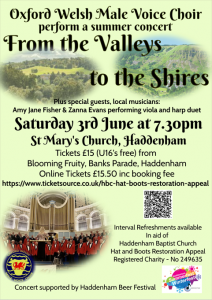 https://www.ticketsource.co.uk/hbc-hat-boots-restoration-appeal